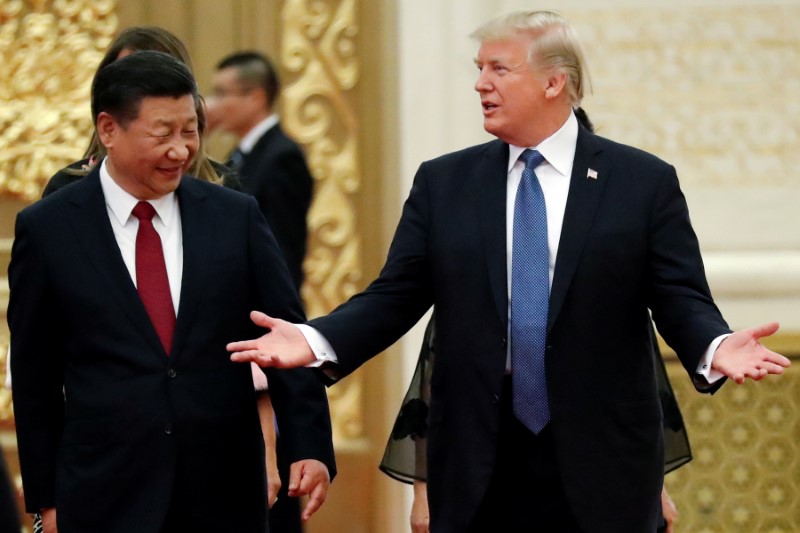 © Reuters. Top House Republican urges Trump, China's Xi to meet on trade: Fox
WASHINGTON (Reuters) – The top Republican lawmaker overseeing trade policies on Sunday called for a meeting between U.S. President Donald Trump and Chinese Premier Xi Jinping to ease trade tensions, warning that U.S. tariffs would likely dampen U.S. economic growth this year.
House Ways and Means Committee Chairman Kevin Brady said U.S. tax cuts had helped drive stronger U.S. growth but trade tariffs on steel and aluminum, and against Chinese imports, could now undermine that impact.
"At some point this year it will show up in the economy and that is what we are trying to avoid," Brady told Fox News in an interview. "I am confident this president, meeting face to face with President Xi, can level that playing field, can create a new set of trade rules for both of our countries."
sponsoredArticle = 'div-gpt-ad-1466339494851-0';
googletag.cmd.push(function() {
googletag.defineSlot('/6938/FP_EN_site/FP_EN_not_Out_of_page_video_Content', [1, 1], 'div-gpt-ad-1531124357521-0').addService(googletag.pubads());
googletag.pubads().enableSingleRequest();
googletag.enableServices();
});
googletag.cmd.push(function() { googletag.display('div-gpt-ad-1531124357521-0'); });