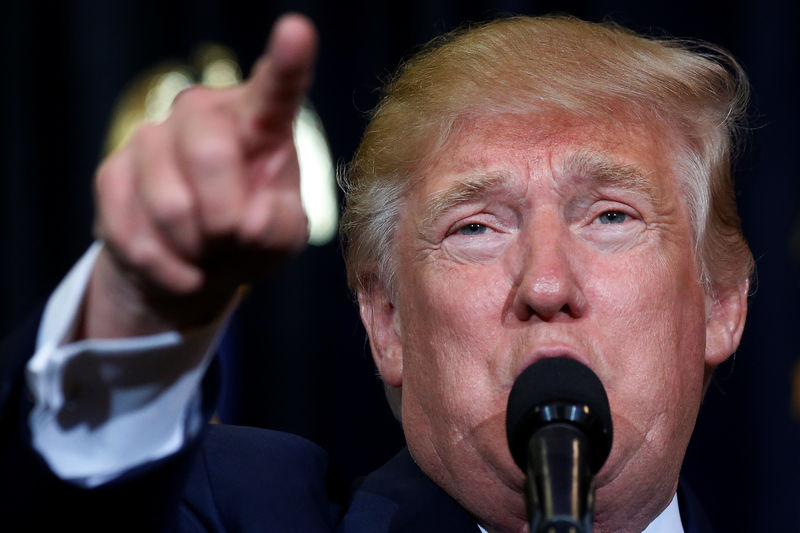 © Reuters. Trump said he was 'not happy' about Fed rate hikes
Investing.com – The dollar reversed course against its rivals Thursday after U.S. President Trump said he was "not happy" about Federal Reserve rate hikes but downside was limited amid optimism over the U.S. economy.
The U.S. dollar index, which measures the green against a trade-weighted basket of six major currencies, fell by 0.08% to 94.75, after hitting a session high of 95.44.
"I'm not happy about it," President Donald Trump said about interest-rate increases during an interview with CNBC Thursday, claiming that "higher rates put us [United States] at a disadvantage." Trump insisted, however, that he would let the "Fed do what they feel is best."
The comments scaled back some investor optimism over a faster pace of rate hikes which had followed bullish comments from Federal Reserve chair Jerome Powell earlier in the week.
Powell said gradual interest rate hikes would be "the best way forward" for the economy, citing stronger labor markets, and inflation that had met the Fed's 2% objective.
Downside in the dollar limited, however, as positive economic data reaffirmed investor expectations the economy remained on solid footing.
The U.S. Department of Labor reported Thursday that initial jobless claims dropped by 8,000 to a seasonally adjusted 207,000 for the week ended July 14, beating economists' forecast for a drop to 220,000.
The Philadelphia Fed said Thursday its manufacturing index rose to a reading of 25.7 in July from 19.9 in June.
GBP/USD fell 0.23% to $1.3039, after plunging below $1.30 earlier as UK retail sales undershot expectations, denting the prospect for an August Bank of England rate hike.
EUR/USD rose 0.25% to $1.1668 while USD/CAD rose 0.52% to $1.3237.
Safe-haven currencies were in demand as the yen and Swiss franc rose against the greenback on the back of renewed concerns about an escalation in the U.S.-China trade war.
sponsoredArticle = 'div-gpt-ad-1466339494851-0';
googletag.cmd.push(function() {
googletag.defineSlot('/6938/FP_EN_site/FP_EN_not_Out_of_page_video_Content', [1, 1], 'div-gpt-ad-1531124357521-0').addService(googletag.pubads());
googletag.pubads().enableSingleRequest();
googletag.enableServices();
});
googletag.cmd.push(function() { googletag.display('div-gpt-ad-1531124357521-0'); });