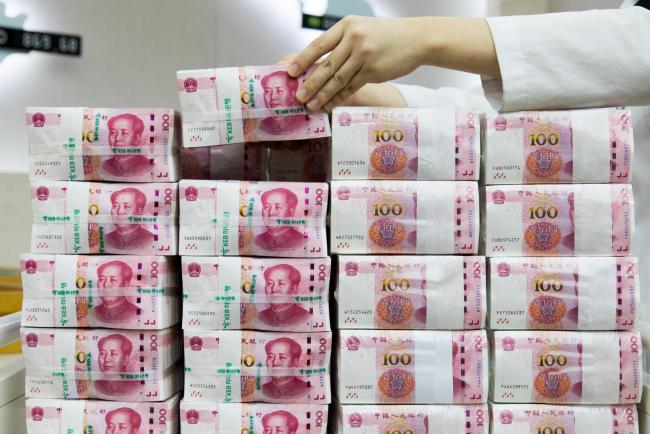 © Bloomberg. An employee arranges genuine bundles of Chinese one-hundred yuan banknotes at the Counterfeit Notes Response Center of KEB Hana Bank in Seoul, South Korea, on Monday, Aug. 14, 2017. China's factory output and investment slowed somewhat in July, according to data released today, yet the yuan appeared not to take the data as negative, if in fact it's paying attention to it at all. Photographer: SeongJoon Cho/Bloomberg
(Bloomberg) — China's yuan fell to a one-year low, as the central bank showed little sign of intervening to slow the currency's descent and bets for monetary policy easing mounted.
The yuan dropped 0.45 percent to 6.7760 per dollar, the lowest level since July 2017, in offshore trading. The People's Bank of China weakened its fixing beyond 6.7 on Thursday for the first time since the currency began tumbling in June. Signs on further monetary easing are also adding strains, with China Business News reporting policy makers have made efforts to encourage bank loans and investment in lower-rated corporate debt.
Read about the latest sign of policy easing here.
The yuan has fallen more than 4 percent in the past month, the worst performance among 31 major currencies, as the world's second largest economy showed signs of slowing and a trade spat with the U.S. escalated. China will tolerate higher volatility in the yuan and a moderate weakening of the currency, according to Pacific Investment Management Co.
The fixing "signals the PBOC is not defending any line in the sand for the exchange rate and is comfortable with gradual yuan depreciation," said Tommy Xie, an economist at Oversea-Chinese Banking Corp. in Singapore. The signs of easing are "certainly not supportive to the yuan, and the currency may see another wave of selling pressures ahead."
The banking and insurance regulator has also asked financial institutions to "earnestly implement" plans to help reduce financing costs for small firms. It said big lenders should "take the lead," according to a statement posted on its website.
"The latest policies are indicating an easing bias, bringing additional pressure to the yuan," said Zhou Hao, senior emerging market economist at Commerzbank AG (DE:CBKG) in Singapore. "If the PBOC doesn't intervene heavily, there will be further downside."
The government has made full preparation and preliminary plans for risks with cross-border capital flows, Wang Chunying, spokeswoman for the State Administration of Foreign Exchange, China's top currency regulator, said at a press conference in Beijing on Thursday. The economy is resilient and provides a foundation for stability in the foreign-exchange market, she added.
On July 3, Chinese central bankers pledged to keep their currency stable and to not use it as a weapon in the trade conflict with the U.S. That effort helped the yuan reverse some of its plunge.
The onshore yuan dropped 0.29 percent to 6.7397 per dollar in Shanghai.
sponsoredArticle = 'div-gpt-ad-1466339494851-0';
googletag.cmd.push(function() {
googletag.defineSlot('/6938/FP_EN_site/FP_EN_not_Out_of_page_video_Content', [1, 1], 'div-gpt-ad-1531124357521-0').addService(googletag.pubads());
googletag.pubads().enableSingleRequest();
googletag.enableServices();
});
googletag.cmd.push(function() { googletag.display('div-gpt-ad-1531124357521-0'); });