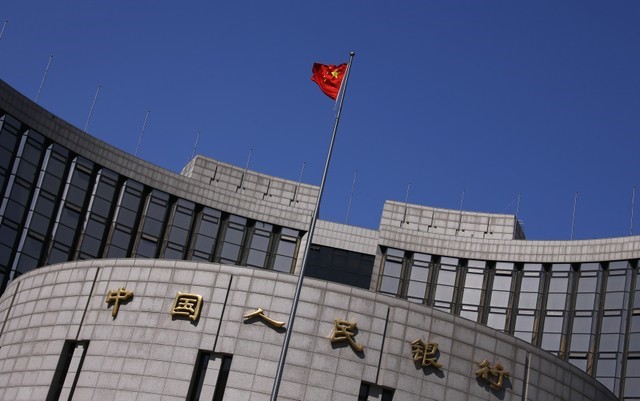 © Reuters. A Chinese national flag flutters outside the headquarters of the People's Bank of China in Beijing
BEIJING (Reuters) – China's fiscal policy has "ample room" to support the economy, the central bank's chief researcher said in an opinion column on Friday, adding that the policy has not been active enough.
China's budget deficit goal this year of 2.6 percent indicates a contractionary fiscal policy and this year's actual deficit ratio should be higher than last year's 3 percent, Xu Zhong, the research head at the People's Bank of China (PBOC), wrote for the financial media website Wallstreetcn.com.
Chinese officials have long stated China would maintain a proactive fiscal policy.
The government should use fiscal funds to replenish the capital of state-owned financial institutions and ease the strain in financial market deleveraging, Xu wrote.
The latest comments by Xu echo those from economists that China could deploy a much more active fiscal policy and fine-tune its monetary policy to shore up growth amid a slowdown in the world's second-biggest economy as it extends a prolonged crackdown on financial risks and battles a heated trade war with the United States.
"China's fiscal policy cannot be active if it still keeps a lid on local government debt," wrote Xu.
Chinese regulators are in the third year of a campaign to clamp down on riskier lending practices. The so-called shadow banking sector has been a particular headache, being a source of off-balance sheet loans for local governments and their financing vehicles (LGFVs).
Local governments have been banned from providing implicit guarantee to LGFVs and some have halted several infrastructure projects.
Xu said that some local governments still have room for "leveraging" and could play a key part in ensuring a stable growth rate for the economy.
Policymakers have been trying to strike a delicate balance between the need for tougher supervision and reforms and ensuring the stability of the financial system, while keeping economic growth on track.
Analysts in a Reuters poll have raised their 2018 growth forecasts for China's economy to 6.6 percent, up from an April forecast of 6.5 percent – a surprising result given an escalating trade war with the United States, as they see a deleveraging drive and pollution crackdown having less of an impact than initially expected.
sponsoredArticle = 'div-gpt-ad-1466339494851-0';
googletag.cmd.push(function() {
googletag.defineSlot('/6938/FP_EN_site/FP_EN_not_Out_of_page_video_Content', [1, 1], 'div-gpt-ad-1531124357521-0').addService(googletag.pubads());
googletag.pubads().enableSingleRequest();
googletag.enableServices();
});
googletag.cmd.push(function() { googletag.display('div-gpt-ad-1531124357521-0'); });